Time for a new 'What to do when in…' In this series, we show you the highlights, funniest and most special sights of the American states, with today: Illinois. The well-known route to the west starts in this Northern state and is a metropolis that you really have to visit! As a student-athlete, you are very busy with your sports and study, but there is also plenty of time to relax. We listed the most beautiful and nicest sights for you, but first things first: we want to highlight and show you where the state of Illinois is on our own Slamstox America map.
Chicago
We start with the pearl of the North of America, the third largest city in America with more than nine million inhabitants. In this city, you can eat a delicious Chicago-style hot dog, see if you can eat the famous deepdish pizza and much more. Furthermore, Chicago has a beautiful skyline and you don't have to be bored in the evening because of the many clubs and entertainment venues. You can make a long list about this city alone but we have listed the highlights for you. You simply must visit this city if you are in Illinois!
Millennium park – Cloud gate
This park is one of the most famous parks in Illinois and is located on Lake Michigan, which you can enjoy in the summer. But in winter, the lake also brings a lot of cold. There are several attractions in the park, including a large fountain, a beautiful pedestrian bridge, the open-air theater, but the attraction that really stands out is the Cloud Gate! This "cloud" gives a complete reflection of everything around you, a very special sight when you stand in front of it. It is therefore no surprise that this attracts millions of tourists every year. On a nice day you can take beautiful pictures where you see your own reflection with all the buildings around you. Also nice is that the residents of Chicago give free tours from the information building every day.
Botanic Garden
Chicago is a very busy city, there is always something going on. When you want to relax in such a busy metropolis, the botanical gardens are the place to be, especially if you love nature. This garden is open all year round and is free to visit. You can find more than 20 themes with nature in mind here, spread over nine islands. Enough nature to enjoy hours, extra special: the park specializes in keeping protected and almost extinct plant species. Therefore, there is a good chance that you will encounter plants here that you will not easily encounter elsewhere.
360 Chicago
There is only one real way to take in the Chicago skyline and that is to visit one of the tallest buildings yourself: 360 Chicago gives a complete view of the entire skyline! Apart from this unique experience, they have also incorporated a special tilt system in the tower: you can stand in a kind of container against the glass windows, after which you tilt forward and have a special view of Chicago. A unique experience and in our opinion one that you should not miss when you are in this city.
Lincoln Park Zoo
Opened in 1868, the zoo is one of the largest in North America, home to over 1,000 animals (of which 200 are different species). You can see that this zoo is old because of the beautiful, historic buildings, but they do move with the times. This means that in the evening, for example, everything is illuminated in different LED colors. There are several areas in the zoo, including a beautiful Arctic where the polar bears can roam freely. As a visitor, you can take a look under water here to see the polar bears swim. In 2016, the Robert and Mayari Pritzker Penguin Cove opened where African penguins roam free. The environment is designed in such a way that the animals can live and reproduce without stress.
Buffalo Rock State Park
South of Chicago is Buffalo Rock State Park which is definitely recommended if you like nature! The park is known for its beautiful river on which it is located. The park is protected by surrounding stones carved over the centuries by river erosion. Buffalo Rock State is located in a quiet area, compared to other parks in America, the park is also relatively small. But as far as we are concerned, this is a fantastic place to relax (in an active way)!
Route 66
The most famous road trip route starts in Chicago and runs through numerous states all the way to Los Angeles. This is one of the first roads in America that was built specifically for driving from east to west. Over the years, the road had to make way for the huge highways, so this route is now nothing more than a country road. Fortunately, most Americans recognize the historical value of this route and it has been completely mapped out with beautiful historic buildings on its route for a few years now.
Begin of the route E. Jackson Blvd, Chicago
As we just said, the well-known Route 66 starts in Chicago. But where exactly does it start? That is not so easy to determine as the route was changed several times in the early years due to the growth of Chicago. The road was originally opened on Jackson Boulevard in 1926, after which the starting point has been changed three more times. The famous sign can be found on the aforementioned boulevard, where the road was originally opened. It is also highly recommended to visit all kinds of historic buildings in this area, a great start for your road trip.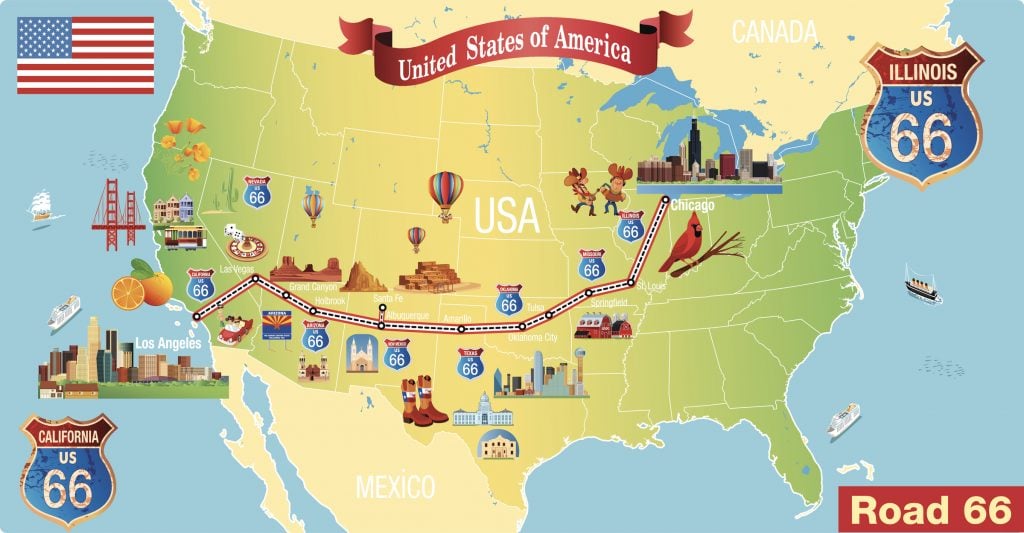 Dell Rhea's Chicken Basket
There are a lot of iconic and special restaurants along Route 66, all of which are certainly worth a visit, but in our opinion you should not miss this one: Dell Rhea's Chicken Basket. This fast food restaurant has been along the route since 1946! Dell Rhea's is in the top 10 best drive-Inn restaurants in America, so that's quite an accomplishment. In addition, this restaurant also has a fantastic, old-fashioned decorated dining area. A fast food restaurant is of course never really healthy, but this one is so special that it is definitely worth a visit.
Bloomington to Sprinfield
The section of the route between Bloomington and Springfield has several iconic landmarks. For example, you will find the Paul Bunyon Hot Dog Statue in Atlanta, Illinois. Literally a giant statue of a man holding a hot dog. If you drive a bit further to Pontiac you can take a picture with one of the most famous murals of the route in the US. When you arrive in Springfield, you can't skip eating at Cozy Dog corn dogs! This iconic restaurant specializes in making hot dogs coated with crispy corn dough, or a corn dog. As far as we're concerned, a real recommendation!
There are plenty of fun things to do and see in Illinois. From visiting Chicago, to the beginning of the famous Route 66. There is plenty for everyone to see in this state. Do you want to become a student-athlete or want more information about college sports in America? Reach out!